Nikon D3100 Mic Input Jack? Microphone Options Explained
The Nikon D3100 does not have an external mic port so you can not plug a microphone directly into the camera. In order to use an external microphone with the Nikon D3100, a separate audio recorder will need to be used.
A video editor can sync audio captured with the external recorder to the audio recorded by the Nikon D3100's built-in microphone. All commonly used editors have the ability to sync multiple audio tracks in post production. If you don't have the knowledge on how to do it yourself, there will be plenty of videos on how to do it with your video editor of choice.
This is an annoying inconvenience done by not only Nikon, buy also Sony and Canon to their entry level DSLR cameras. More expensive models included a microphone jack in order to get people to spend more for a model with that feature.
Is the Nikon D3100 Still Worth Using for Video?
Probably not do to the costs involved in making up for the lack of audio input. There are many newer cameras that will allow you to connect a quality mic without the need to purchase an adapter or other hardware.
One of the most common problems with built-in camera mics is that they can pickup focus motor noise from a lens. An upgrade to a newer camera would make it possible to record video at a high resolution.
For photography, the Nikon D3100 is still a capable of capturing quality images. Here is a list of the best lenses for the Nikon D3100.
External Microphone & Recorder Options
Audio can be recorded separately and synced with video in post. This is the only option to improve the audio quality with video from the Nikon D3100.
A USB microphone life a Blue Yeti could work if you are recording near a computer. This can be an good option as a USB microphone will not require a separate audio recorder.
Zoom H1n

Built-in stereo condenser microphones in 90-Degree x/Y format.
Runs off 2x AAA batteries. Runtime is approximately 10 hours of continuous recording time using the built-in mic at 44.1 kHz/16-bit settings.
2.5mm Audio Input Jack.
Records onto a microSD card with a maximum capacity supported of 32GB.
Playback Speed Control, Voice Emphasize Filter, and Stereo overdubbing functions.
Tascam DR-40X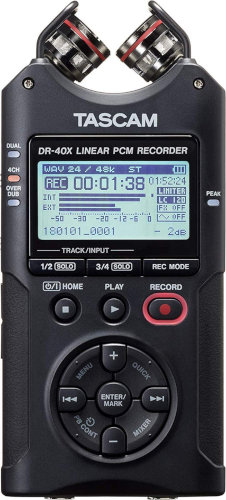 High-quality unidirectional stereo condenser microphones that can record in A-B and X-Y positions.
XLR/TRS inputs compatible with +4dBu line level / +48V.
Powered by 3x AA batteries.
Records onto a microSD card with a 128GB maximum storage capacity.
4-channel mode that can be used for dual recording and nondestructive overdub recording, etc.
Functions as a 2in/ 2out USB Audio Interface for Mac, PC or iOS recording
External Mics
Rode VideoMic GO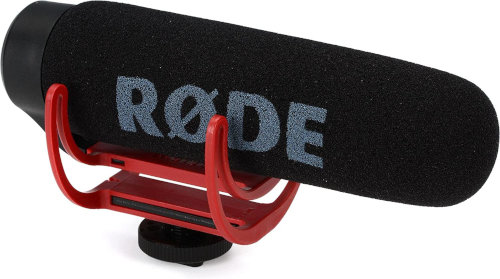 High quality directional mic.
Does not require a battery.
Integrated Rycote® Lyre® shock mounting.
Rugged reinforced ABS construction.
Windshield included.
Connects via a 3.5mm mini-jack.
TAKSTAR SGC-598 Shotgun Microphone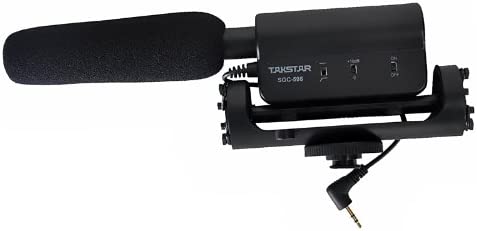 High sensitivity condenser microphone designed for DSLR cameras.
Cardioid design can reduces ambient noise.
Selectable +10dB sensitivity tone up and 200Hz bass filter.
Shock proof design to reduce noise from vibrations from movement or autofocus motors.
Requires 1x AA alkaline battery.
Low power indicator.
Rode Wireless GO II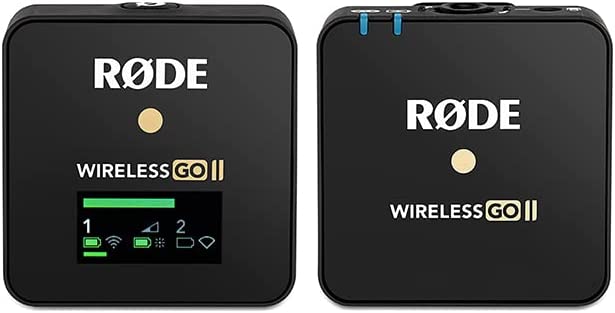 Transmitter operates as a clip-on microphone or beltpack for a lavalier/headset microphone.
Ultra-compact form-factor – transmitter and receiver weigh a minuscule 31g each.
Series III 2.4GHz digital wireless transmission with 128-bit encryption delivers crystal-clear audio under any conditions and excels in dense Wi-Fi and Bluetooth environments (shopping malls, conventions, hotels etc).
Up to 70m range (line-of-sight), optimised for short-range operation in congested RF environments.
In-built rechargeable batteries that last up to 7 hours, charged via USB-C.
Super easy to use – transmitter and receiver auto-pair in under three seconds.
3-stage output pad (0dB, -12dB and -24dB) and battery saver mode.
Use up to eight systems in one location.
Comes in either black or white.
Nikon D3100 Audio Questions
Video can quickly fill up a memory card. If you're running into that issue, take a look at the best Nikon D3100 Memory Cards.
Can the Nikon D3100 use an external mic?
The Nikon D3100 does not have a jack for an external mic. If you want to use an external microphone with the Nikon D3100 it will have to be done with a stand alone audio recorder.
Examples of portable audio recorders are the Zoom H1n or Tascam DR-40X. These can record audio with their built-in microphones or a microphone can be plugged into them.
Does the Nikon D3100 have a mic input jack?
The Nikon D3100 does not have a mic input jack. In order to use an external mic, a stand alone audio recorder will need to be used. Audio and sound can be synced through a video editor.
Does the Nikon D3100 record audio?
Yes, the Nikon D3100 records audio when shooting video. Audio is recorded through built-in monaural mics.
Nikon D3100 Frequently Asked Questions
Related Posts