The 5 Cheap Autofocus Lenses for the Nikon N4004 (F-401)
The Nikon N4004 is a 35mm film SLR camera with autofocus. Outside of North America, the camera was known as the Nikon F-401.
The 5 best lenses for the Nikon N4004, plus some alternative lens options to cover every budget will be covered.
Here is the list of the best lenses for the Nikon N4004:
Nikon F-mount AF and D Series lenses are needed for autofocus to work on the N4004. D Series lenses allow for 3D Matrix Metering and 3D Multi-Sensor Balanced Fill-Flash.
Some G series lenses can work as long as the lenses do not have built-in autofocus motors.
You can visually confirm this by looking at the lens mount. You will be able to see the autofocus coupler.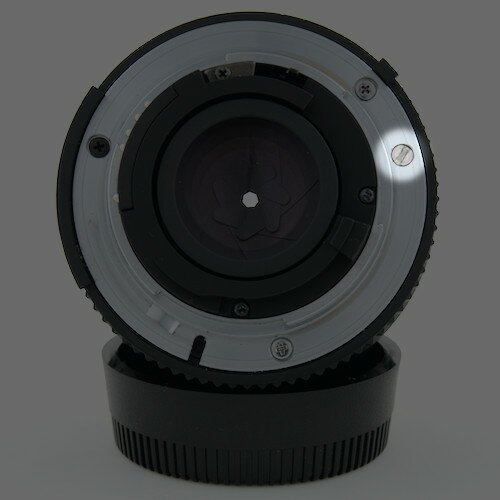 The D Series versions are newer than the AF versions of lenses and are more desirable because they are less likely to have condition issues and have slight design improvements.
In order to avoid getting an EE error, the aperture needs to be set to the smallest f-stop. Lenses will have an aperture lock to prevent the aperture from accidentally being changed.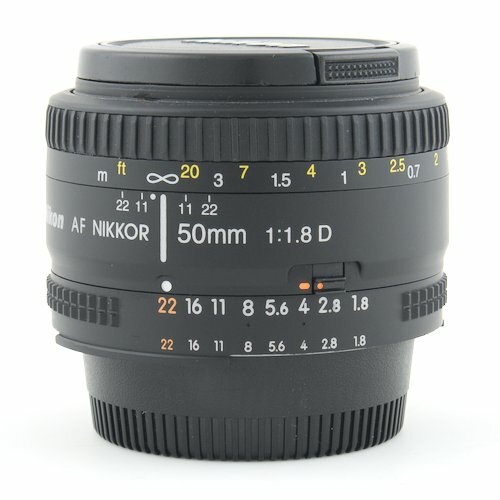 The orange aperture lock is engaged.
Manual focus Nikon Ai and Ai-S lenses can also be used on the camera. However, the N4004 does not have any manual focus aids, making the lenses difficult to use.
Do not use 'non-Ai' F-mount lenses as they can cause damage. See the Nikon F-mount lens and camera compatibility page for how to identify 'non-Ai' lenses.
Standard Lenses
Nikon 50mm f/1.8D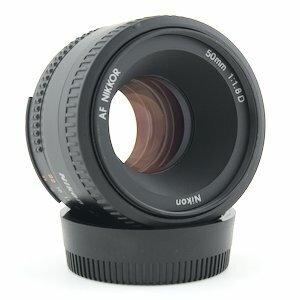 Great optics.
Easy to find in good condition.
Small, compact, and light.
Can be used on some Nikon DSLRs.
See current price and more information on:
If I was only going to use one lens with the N4004, this would be the lens I would pick.
I prefer how the 50mm f/1.8D renders images over the newer (and not compatible with the N4004) 50mm f/1.8G. They have a natural look to them as opposed to the clinical sharpness modern lenses have from digital image correction.
The 50mm f/1.8D is not going to be razor-sharp corner to corner when shot wide open. When stopped down, the lens is sharp.
If you also own a Nikon DSLR with a built-in focus motor, the lens is an excellent choice. You'll be able to use it on multiple cameras and the CPU contacts mean you'll get EXIF data when using it on a digital camera.
Nikon 50mm f/1.4D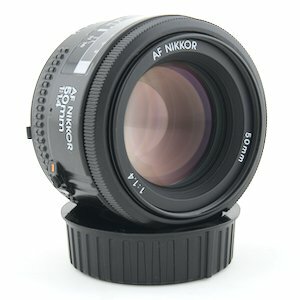 Borderline overpriced.
Great optics.
Widely available used.
See current price and more information on:
I'm not a big fan of vintage 50mm f/1.4 lenses. I don't think there is enough of an advantage to justify the increase in price over an f/1.8 lens.
It is noticeably larger and heavier than a f/1.8 lens. Also, the autofocus will not be faster.
If you really like fast 50mm lenses, this is the only compatible option. It is a good lens, but I think the majority of people would be better off with an f/1.8 plus buying another lens with the cost savings.
Nikon 35mm f/2D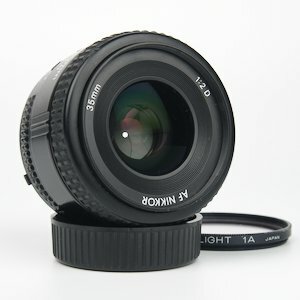 A great alternative to a 50mm lens.
Good value for a vintage AF 35mm lens.
Small enough to be good for travel.
See current price and more information on:
This lens is an excellent alternative to a 50mm. It is close enough in size and weight to handle the same way on the camera.
Compared to the newer G version, the D has fewer lens elements and no plastic elements. In my opinion it produces nicer images than the newer versions.
Wide Angle Lenses
Nikon 24mm f/2.8D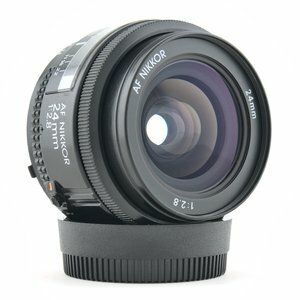 Best price to performance for a vintage Nikkor wide-angle lens.
Optical coatings help improve sharpness and reduce glare.
Works well on manual focus camera bodies.
See current price and more information on:
The Nikon 24mm f/2.8D has the best price-performance ratio of any wide-angle lens for the N4004. The Nikkor 20mm f/2.8D has problems with flare and has more noticeable barrel distortion while also costing more.
Any lens that is wider or faster jumps into price ranges that I would consider to be overpriced. The image quality will also not be as good as a vintage medium format, larger format, or modern wide-angle lens.
Nikon AF Nikkor 28mm f/2.8D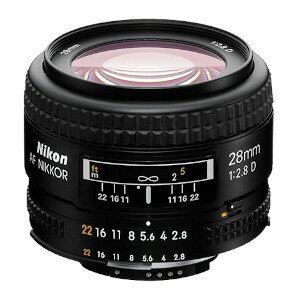 Great optics.
Small, compact, and easy to travel with.
Widely available.
See current price and more information on:
The 28mm is a borderline wide-angle lens that should cost less than a 24mm. Like many of the recommended lenses, it is small and compact, making it perfect as a primary lens or as part of a small kit.
Portrait & Telephoto Lenses
Nikon AF Nikkor 85mm f/1.8D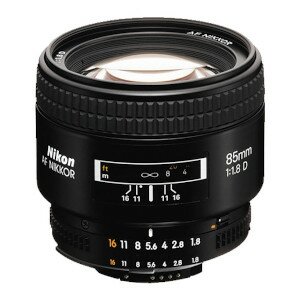 Fairly reasonable price.
Easy to find.
Excellent optics.
Rear focusing system.
See current price and more information on:
The 85mm f/1.8D has a reasonable price as far as vintage 85mm lenses go. Older manual focus versions and the 85mm f/1.4D are more than twice as expensive.
The optics are excellent and the lens is still small enough to be easy to travel with as it only weighs 13.2 oz (375g).
Nikon DC-Nikkor 105mm f/2D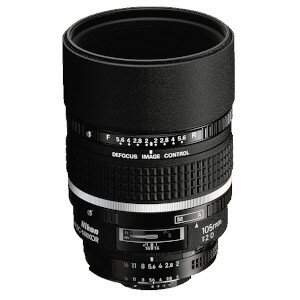 Has DC - Defocus Control.
Produced from 1993 until 2016.
Ridiculous value used.
Excellent availability.
See current price and more information on:
The DC-Nikkor 105mm f/2D was made for 23 years. It was still being manufactured after just about every other focal length was updated to the G series. It was and still is a popular lens.
The DC stands for 'Defocus Image Control' which allows you to control how the bokeh is rendered. This is a somewhat unique feature. There is also a DC-Nikkor 135mm f/2D.
Minolta also developed something similar, VFC 'Variable Focus Control', which was used on a couple of wide-angle lenses to allow the focus plane to be shifted.
It is also only slightly more expensive than a 85mm /f1.4D lens.
Zoom Lenses
One of the changes that occurred with autofocus is the switch from a 50mm prime to zooms being the kit lens.
Convenience, rather than image quality was the main selling point for these lenses. With that said, there are numerous options that are much less expensive than their prime counterparts.
Here's a list of affordable zoom lenses. You can pick on the basis of price or focal length range and will get similar optical performance.
Nikon AF Nikkor 28-80mm f/3.5-5.6D
Nikon AF Nikkor 35-80mm 1:4-5.6 AF D
Nikon AF Nikkor 28-105mm f/3.5-4.5D
Nikon AF D Nikkor 24-120mm f/3.5-5.6 IF
Nikon AF Nikkor 28-200mm f/3.5-5.6D
Nikon AF Nikkor 75-240mm f/4.5-5.6D
Nikon Nikkor AF 70-300mm f4-5.6 D ED
Nikon AF Zoom 28-80mm f/3.5-5.6D
Covers a useful zoom range.
Great for everyday general photography.
Inexpensive and easy to find.
See current price and more information on:
The updated G version of this lens as shown in the picture above is compatible. The D version is better as it has a physical aperture ring which means it can be used with older cameras.
However, owning 50mm and 28mm primes will make a majority of the zoom range redundant. The primes also have better image quality, are smaller, and weigh less.
Nikon AF Nikkor 70-210mm f/4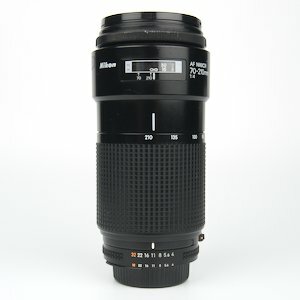 Covers a good telephoto zoom range.
Great for photography in full sun.
Avoid the earlier push-pull version.
See current price and more information on:
Do not buy the earlier push-pull version of the lens. You can identify it by looking for the focal length numbers on the zoom ring.
If focal length numbers are on the lens barrel in a vertical line, it is the push-pull version and you do not want that lens. The problem is that the grease degrades in push-pull lenses making them loose and sloppy, which is a terrible experience.
Nikon Macro Lenses
For capturing photos at macro magnification (1x), focal lengths in the 90mm-105mm range will be the best choice.
You'll have a large enough working distance to be able to use flash while avoiding excessive weight and high costs that come with longer focal lengths.
Nikon AF Micro Nikkor 105mm f/2.8D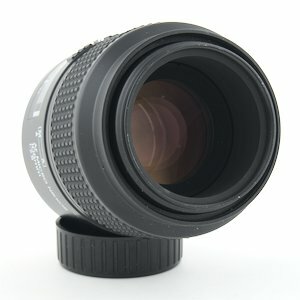 Ideal focal length for 1x magnification.
Widely available.
Excellent optics.
See current price and more information on:
The optics are good, but the autofocus leaves much to be desired due to being mechanical. Expect slower autofocus than lenses with built-in AF motors.
It can work well for close-ups, copy work, portraits, and other types of photography that are not dependent on having fast autofocus.
For 1:1 macro photography, I don't think film is a very good option. A digital mirrorless camera has too many benefits to overlook.
Nikon AF Micro Nikkor 60mm f/2.8D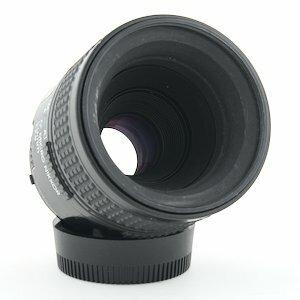 Great for close-up photography.
Produces sharp images.
Can achieve 1x magnification without an extension tube.
See current price and more information on:
Just like the 105mm above, this lens is good for close-up photography of subjects that are not quickly moving. It will likely be a better choice for copy work of anything that is larger than a couple of inches (5cm).
Used Nikon Lenses
Prices change all the time depending on supply and interest in film photography and vintage lenses. During the last several years, film photography was going through an increase in popularity, which has pushed prices higher.
What Lens Mount Does the Nikon N4004 Use?
The Nikon N4004 uses the Nikon F lens mount. The F-mount has been in use since 1959. Over time changes have been made to add metering information, autofocus, electronic aperture control, and CPU contacts.
In addition to AF, D, and some G series lenses, manual focus Ai-S and Ai lenses can also be used in manual mode. I would not recommend doing so as the N4004 lacks manual focus aids.
Do not attempt to use 'non-Ai' lenses on the Nikon N4004 as they will cause damage. For an explanation of the differences between lenses, see the Nikon F-mount lens and camera compatibility page.
Standard Lens Cap Size
The standard lens cap and filter ring thread diameter for just about all vintage Nikon lenses is 52mm. Keep in mind, lenses with big front elements are going to need larger lens caps and filters.
Having lenses with the same filter thread diameter is useful because you only need to buy only one set of filters.
More Nikon N4004 (F-401) Resources