Does the Nikon D3300 Have Wireless?
The Nikon D3300 does not have wifi built into the camera. For a Nikon camera with wireless, here are some of the best Nikon D3300 upgrade options.
In order for the Nikon D3300 to have wifi, a Eye-Fi SD memory card needs to be used. Eye-Fi cards have Wifi built into them which will allow you to connect to and transfer pictures to your phone.
Eye-Fi Wifi SD Cards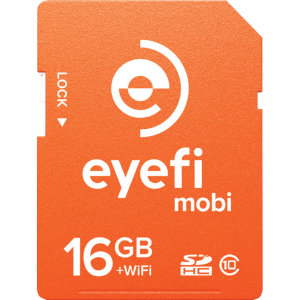 Nikon D3300 Wifi capability can be achieved through the use of a Eye-Fi SD card. However, Eye-Fi memory cards are not recommended due to being discontinued.
Before the Eye-Fi company went out of business in 2016, it dropped support for all Eye-Fi cards due to security vulnerabilities. While Eye-Fi Wifi cards can still be purchased, they are expensive and hard to find.
32GB is the largest storage capacity the Eye-Fi memory cards were ever produced. They are also limited to Class 10 speed. Newer UHS-I SD cards are going to transfer files to a computer much faster. In terms of storage and speed you're much better off getting one of the best Nikon D3300 SD cards.
In addition to being expensive, the largest storage capacity Eye-Fi Mobi SD cards that were produced were 32GB and limited to Class 10 speed. You're better off getting one of the best Nikon D3300 Memory Cards.
Nikon D3300 Wifi Speed
Speed over Eye-Fi Wifi will be slower to transfer images than what you would see with newer devices. That's because Eye-Fi cards can only use the 802.11b/g Wi-fi standard.
Does the Nikon D3300 Have Bluetooth?
No, the Nikon D3300 does not have Bluetooth. There are no Bluetooth adapters for the Nikon D3300.
If you want Bluetooth capability to be able to download images to your cell phone, you will need a newer DSLR or some Nikon Coolpix models.
Nikon WU-1a Wireless Mobile Adapter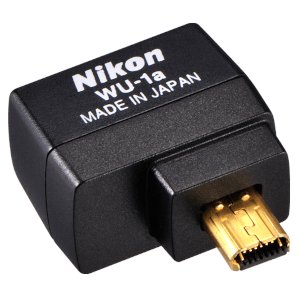 The Nikon D3300 is compatible with the Nikon WU-1a Wireless Adapter. However, support for the Nikon Wireless Utility mobile app has been dropped for Android and iOS. The latest version of Android supported by the app is 9.0 and 13.2 for iOS.
Theoretically, the adapter should allow you to control the camera from your phone. Compatibility problems with your phone will likely prevent that.
The app has horrible ratings and you should not expect it to work as described. I don't waste money buying the WU-1a to use with the Nikon D3300. If you need smartphone connectivity there are Nikon D3300 upgrades that have better compatibility with current phones.
Remote Control
There are wireless remote shutter controls, cabled shutter releases, and intervalometers available for the Nikon D3300. All of them will need to plug into the DC2 port on the D3300.
Nikon D3300 Frequently Asked Questions
Related Posts