Best Canon Rebel XTi SD Memory Cards
The Canon Rebel XTi uses Compact Flash memory cards. 128GB is the largest card capacity that is compatible.
A card larger than 128GB will either not be recognized or cause the Rebel XTi to display an error message.
Recommended CF Cards
SanDisk Extreme Pro CF 128GB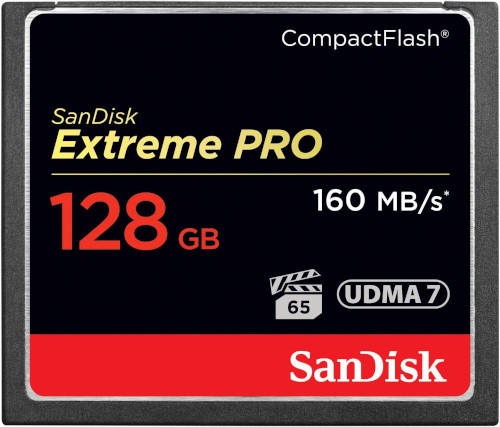 Records and captures cinema quality 4K and Full HD video.
Transfer speed of up to 160MB/s (1067X) read speeds.
Industry leading shot speed performance of up to 150MB/s (1000X) write speeds.
Designed for professional photographers and videographers
See current price and more information on:
SanDisk Extreme 64GB CompactFlash Card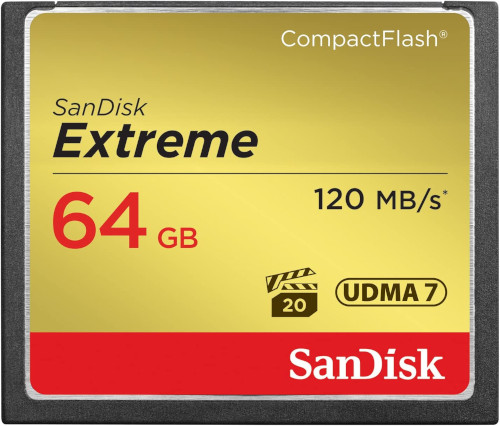 Write speeds of up to 85 MB/s for faster shot-to-shot performance.
Transfer speeds of up to 120 MB/s for increased efficiency.
Video Performance (VPG-20) for Full HD video recording.
RTV silicone coating protects card from shock and vibration.
See current price and more information on:
Lexar Professional CF Card 64GB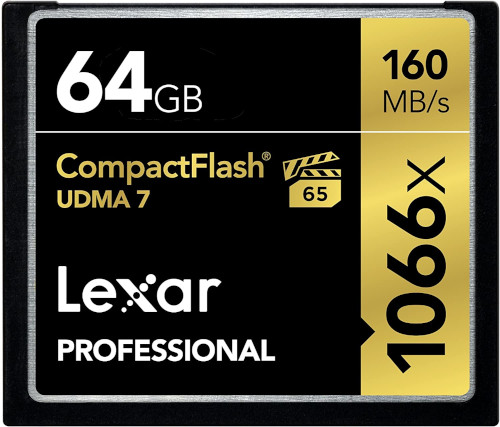 High speed performance—leverages UDMA 7 technology to deliver a read speed up to 1066x (160MB/s).
Supports the VPG-65 specification for professional-quality video.
Captures high-quality images and extended lengths of stunning 1080p Full-HD, 3D, and 4K video.
High-speed file transfer to dramatically accelerate workflow.
See current price and more information on:
Compact Flash Card Types
Compact Flash cards come in two sizes. The CF cards are known as Type I or Type II.
The difference between the types is how thick the cards are. The length and width of the cards are identical.
Type I - 3.3mm thick
Type II - 5mm thick
The Type II spec were thicker to allow the use of Microdrives in the Canon Rebel XTi. A Microdrive was a tiny mechanical harddrive.
When Compact Flash memory cards were initially released they had high prices and very limited storage capacities. Microdrives made it possible to have large storage sizes.
Microdrives are no longer made. Due to being mechanical, failure came from prolonged use or age. So they are virtually impossible to find used.
Another usage of the Type II sized slot is for Compact Flash card adapters. The adapters allow you to use SD or Micro SD cards in a Compact Flash slot.
Card Reader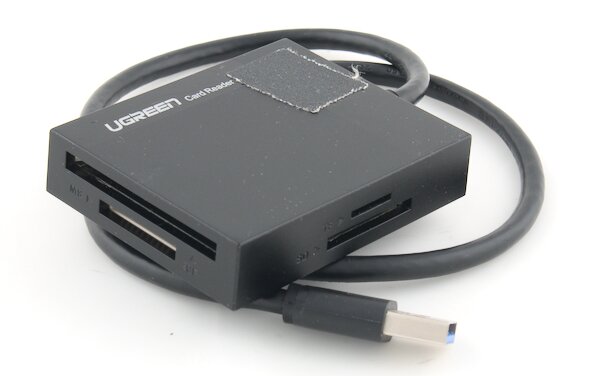 The UGREEN 4-in-1 card reader is what I use with my CF cards.
The UGREEN reader is USB 3.0 compatible. Using the card reader will provide transfer speeds that are much faster than what the Canon Rebel XTi can do.
The card reader can read the following memory card types:
CompactFlash Cards
SD, SDHC, & SDXC Cards
Memory Stick (MS), MS Pro, MS PRO-HG, & MS XC DUO
MicroSD, Micro SDHC, & Micro SDXC Cards
Avoiding Card Read Errors
A common problems with cameras that use Compact Flash cards are bent card slot pins. If a pin is bent, you may see a 'unable to use card' error message.
To avoid damaged pins, don't force a Compact Flash memory card into the Canon Rebel XTi. The extra space for a Type II card allows a CF card to be misaligned.
If the compact flash card will not effortlessly slide into the slot, remove it and check the alignment of the memory card. Also, check to see if the card is damaged.
If everything looks undamaged, carefully position the compact flash card and try inserting it again.
Related Links