The 5 Best Nikon FM Lenses
The Nikon FM is a very good film SLR camera. This article will talk about the 5 best lenses for the Nikon FM, plus a few alternative lenses.
More details are further down, but if you are limited on time, here is the list:
The best Nikon F-mount lenses are categorized by type of photography and cost. There are many outstanding camera lenses to pick from that cover price ranges ideal for the value of a FM.
Standard Prime Lens
A 50mm focal length lens is a superb choice for a vast array of photography. The areas of photography include everyday use, travel, landscapes, portraits, street, and architecture. This is the most popular focal length used on the Nikon FM.
Nikon 50mm f/1.8 Series E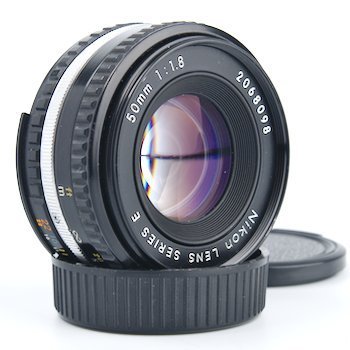 One of the most popular 50mm lenses Nikon ever made.
Amazing value.
Small, compact, and light.
52mm front filter threads.
Found at: Amazon, eBay, KEH & Adorama
If you do not already have one, a wonderful first lens for the FM is the Nikon 50mm f/1.8 Series E. The 50mm f1.8 is simple to find, has nice picture quality, is affordable, compact, and lightweight.
Be sure to get the second version of the lens, which has a chrome ring around the body. It is made out of aluminum, whereas the first version has plastic parts.
The 50mm Series E lens is often referred to as a pancake lens because it is thin. When mounted on the FM the lens barely sticks out. This is very useful for keeping the camera under a coat so you can keep a low profile.
Several 50mm manual focus lenses were manufactured by Nikon for the F-mount.
Nikon Nikkor 50mm f/1.4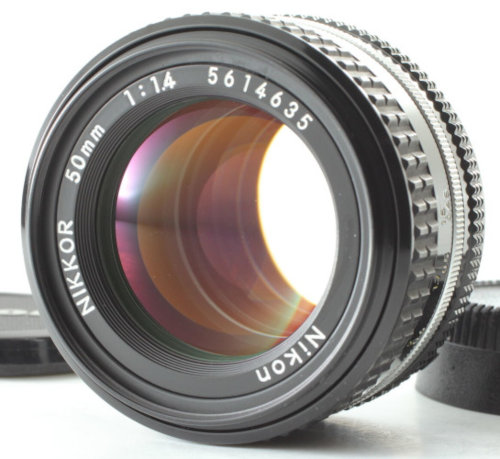 Excellent optics.
Optical multi-coatings to reduce flare.
Easy to find.
Comparatively low-priced.
Available from: Amazon, eBay, KEH & Adorama
At the increased cost of size and weight, the Nikon Nikkor 50mm f/1.4 is 2/3 of a stop faster. It is slightly higher priced than any of the f/1.8 or f/2 lenses.
Voigtländer Nokton 58mm f/1.4 SL II AI-S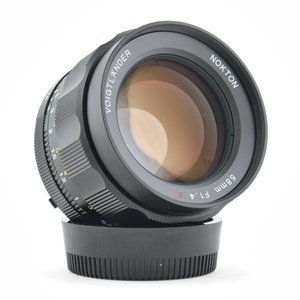 Spectacular optics.
Has a Meter Coupling Prong.
CPU Contacts.
Can be purchased new.
Available from: Amazon, eBay, KEH & Adorama
Nikon manufactured a 50mm f/1.2 and 55mm f/1.2, but the value isn't good. Because of the age of the lenses, you ought to be concerned about the lubricant in the focusing helicoid drying up, spoiling the experience of using the lens.
The Voightlander 58mm f/1.4 is all around a superior option for a premium quality lens. The focusing ring is the smoothest| I have ever encountered on a manual focus lens. It is a complete delight to use.
Plus, the lens provides compatibility across all Nikon F-mount SLR cameras. It has a CPU contacts, Ai Meter Coupling Ridge, Meter Coupling Prong, and has a switch for electronic control of the aperture. You can move the lens from a Nikon film SLR to a Nikon DSLR seamlessly.
Alternative Standard Lenses
Here are a few other quality lenses that are worth buying.
Nikon Nikkor 50mm f/1.8
Nikon Nikkor 50mm f/2
Nikon 35mm f/2.5 Series E
Nikon 28mm f/2.8 Series E
Wide Angle Lens
Nikon Nikkor 24mm f/2.8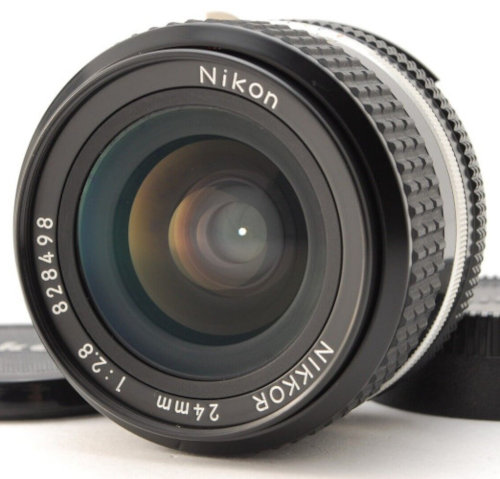 Great combination with a 50mm lens.
Optical multi-coatings to improve performance.
Easy to find.
Comparatively low-priced.
Available from: Amazon, eBay, KEH & Adorama
A great selection for a wide-angle lens is the Nikon Nikkor 24mm f/2.8. It is well suited for landscape or architectural photography.
There are an abundance of wider focal lengths to select from, but they are either way more expensive or show significant amounts of barrel distortion. Third-party lenses have clearly lower image quality than Nikkor lenses.
Nikon 28mm f/2.8 Series E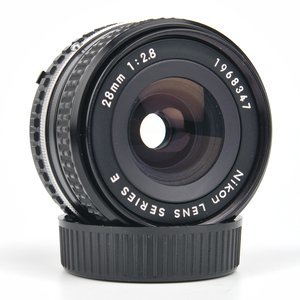 Great when matched with a 50mm lens.
Optical multi-coatings to improve performance.
Easy to find.
Easily affordable.
Available from: Amazon, eBay & KEH
The Nikon 28mm f/2.8 Series E lens is a cheaper alternative. It is appealing to use with the FM due to the affordable price and ease that the lens can be found.
Alternative Wide Angle Lenses
In terms of cost, the correlation is straightforward. The greater the field of view, the pricier the lens will likely be. Larger apertures also go for noticeably more.
Nikon 8mm f/2.8 Fisheye
Nikon Nikkor 15mm f/3.5
Nikon Nikkon 18mm f/3.5
Nikon Nikkon 24mm f/2
Nikon Nikkon 13mm f/5.6
Nikon Nikkon 16mm f/2.8 Fisheye
Nikon Nikkon 20mm f/2.8
Portrait & Telephoto Lens
Nikon 100mm f/2.8 Series E Lens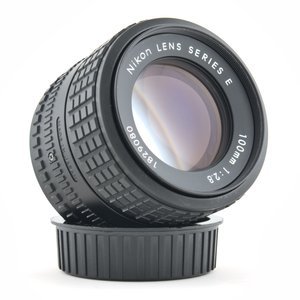 85mm substitute.
Good value.
Comparatively low-priced.
Widely available.
Available from: Amazon, eBay, KEH
The 85mm focal length wasn't as commonly used as it is today in DDATE when the MMDOEL was first produced. 135mm or 100mm focal lengths were more common thanks to their inexpensive cost.
Like all the other Series E lenses mentioned, the 100mm f/2.8 hits a good balance of performance, functionality, and cost. That's why it was very popular when released and why a lot of copies are available on the used market.
Nikon Nikkor 135mm f/2.8 Lens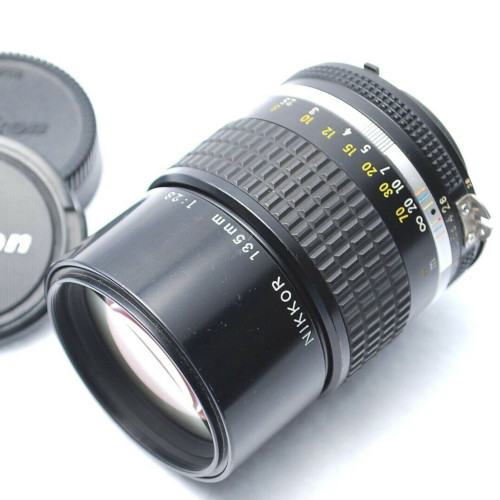 85mm substitute.
"Classic" portraiture rendering.
Widely available.
Available from: Amazon, eBay, KEH & Adorama
The "classic" look of the Nikkor 135mm f/2.8 stems from the focal length combined with the lens only having 4 elements.
1965 was the year the original version of the lens was produced. A total of 6 different versions of the lens, only the last two versions being compatible with the FM.
If you go to buy a copy of the lens, the compatible lenses will be listed as Ai or Ai-S.
Alternative Telephoto Lenses
There is no shortage of additional telephoto lenses to pick from. The 85mm lenses and focal lengths longer than 135mm will be expensive.
| | |
| --- | --- |
| Nikkor 85mm f/2 | Nikkor 105mm f/1.8 |
| Nikkor 105mm f/2.5 | Nikkor 135mm f/2 |
| Nikkor 135mm f/2.8 | Nikon 135mm f/2.8 Series E |
| Nikkor 180mm f/2.8 | Nikkor 200mm f/2 ED |
| Nikkor 300mm f/2 IF-ED | Nikkor 300mm f/2.8 |
| Nikkor 300mm f/4.5 | Nikkor 400mm f/2.8 IF-ED |
| Nikkor 500mm f/4 IF-ED P | Mirror Nikkor 500mm f/8 |
| Nikkor 600mm f/4 IF-ED | Nikkor 800mm f/5.6 IF-ED |
Nikon FM Zoom Lenses
Before cameras had autofocus, in the early 1980's, there were a handful of lenses built by third-party manufacturers that were optically better than Nikkor lenses.
Many of these lenses would be released with the Vivitar brand name. Lenses that have the Vivitar Series 1 branding on them will have excellent optics.
Vivitar Series 1 70-210mm f/3.5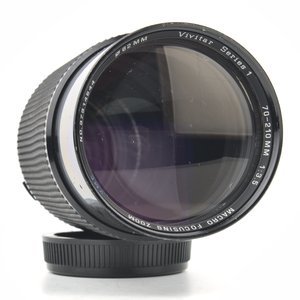 Covers a useful zoom range.
Good for portrait or wildlife photography.
A rare example of when a third-party lens is the best choice.
Available from: Amazon, eBay & KEH
Alternative Zoom Lenses
There aren't many options for zooms for the Nikon FM that have a shorter focal length zoom range. Wear and tear along with age has caused many Nikon zooms to become pretty much unusable.
The only zoom I would recommend looking for is the Vivitar Series 1 VMC 35-85mm f/2.8 (Also found on KEH). Keep in mind, it can be difficult to come across.
Vintage Zoom Lens Problems
The lens that ought to be the ideal choice, the Nikon Zoom-Nikkor 35-105mm f/3.5-4.5, is unfortunately, a push-pull zoom. In place of having a zoom ring, the focus ring is pushed or pulled to select the lens zoom range.
The grease in almost all push-pull zooms has broken down to the stage where the zoom mechanism cannot hold itself up. Because of that, the lens will have small changes in focal length when you try to focus. This will be made worse if the lens is not parallel to the ground.
Nikon Macro Lenses
Komine produced both of the two recommended macro lenses in Japan. The lenses were also sold under many different brand names. Spiratone, Elicar, Rokunar, Panagor, and Quantaray are brands that also released the lenses.
There is a Vivitar 90mm f/2.8 Macro Lens Review and a Vivitar 55mm f/2.8 Macro Lens Review.
For capturing images at life-size magnification, the 90mm lens will be the better pick since it has a greater working distance.
The 55mm macro lens is excellent for close-up and table-top photography.
Vivitar 90mm f/2.8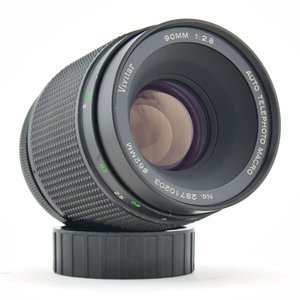 My favorite vintage macro lens.
Available in multiple camera lens mounts.
Excellent value.
Vivitar 90mm f/2.8 Macro Lens
Available from: eBay, KEH & Adorama
Vivitar 55mm f/2.8 Macro Lens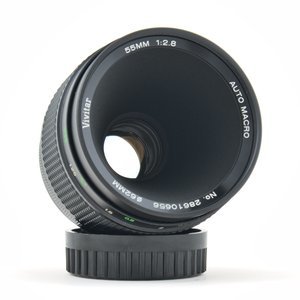 The second best vintage macro lens I've used.
An excellent lens for close-up photography.
It doesn't need an extension tube to reach 1:1 magnification.
Available from: eBay, KEH & Adorama
Alternative Macro Lenses
Used Nikon Camera Lens Prices
Camera lens prices change all the time based on availability and interest in vintage lenses. Over the past several years, film photography was going through an increase in interest, which has caused prices to increase.
Economic changes can quickly lead to large changes in prices. Having said that, the relative difference in lens prices should stay the same.
Look at several sites to get a good idea of what used prices are. If you are fortunate enough to come across a good deal, be quick, because the best deals do not last very long.
What Lens Mount Does the Nikon FM Use?
The Nikon FM uses the Nikon F lens mount. Launched in 1959, the F-mount is still in use today. Changes have been made over time to add autofocus, CPU contacts, metering information, and electronically controlled apertures.
For the FM, you need to use lenses that are manual focus and are either Ai or Ai-S. Those lenses have a meter coupling ridge which allows the camera to accurately meter light.
For a complete explanation F-mount lenses, here is a page that explains Nikon F-mount lens and camera compatibility.
Standard Lens Cap Size
The standard filter ring thread and lens cap size for the majority of vintage manual focus F-mount lenses is 52mm. It goes without saying, lenses with large front elements will require larger lens caps and filters.
The advantage of having a standardized filter thread diameter is that you only have to have one set of lens filters.
Non Ai vs Ai & Ai-S Lenses
A Meter Coupling Prong was used on early F-mount Nikon cameras. The Nikon FM uses a Meter Coupling Ridge.
Lenses manufactured during the time when Nikon transitioned to Ai lenses can have both forms of meter coupling.
Non-Ai lenses can cause damage to your FM if you attempt to put one on the camera.
More Nikon FM Resources
There is no more info on the best Nikon FM lenses. When more information is included on the site, links can be found here.